Glad to be sharing a bit more about my die line "Quite Contrary" by Spellbinders with you. Initially when I was asked if I was interested in designing a line for Spellbinders, I was beyond excited. Of course, the hardest part was deciding what direction to go. As many of you know, I LOVE art. All kinds. I love color and styles and eras and the list goes on and on. Obviously choosing a direction was going to be difficult for indecisive "I love everything"-me, but I chose flowers because I work with fresh ones often and I love using tissue and crepe paper. I also like to work with trendy stuff and so I found flowers were a good place to start. They are always in no matter the age or the time. This next project was so fun but I know some of you will most likely say, "I am so not creative" and "I could never do that". Well, I am going to show you a few different ways to attack the next project so that you feel like a pro :). As I like to say "You got this".
So here is one of my flowers up close.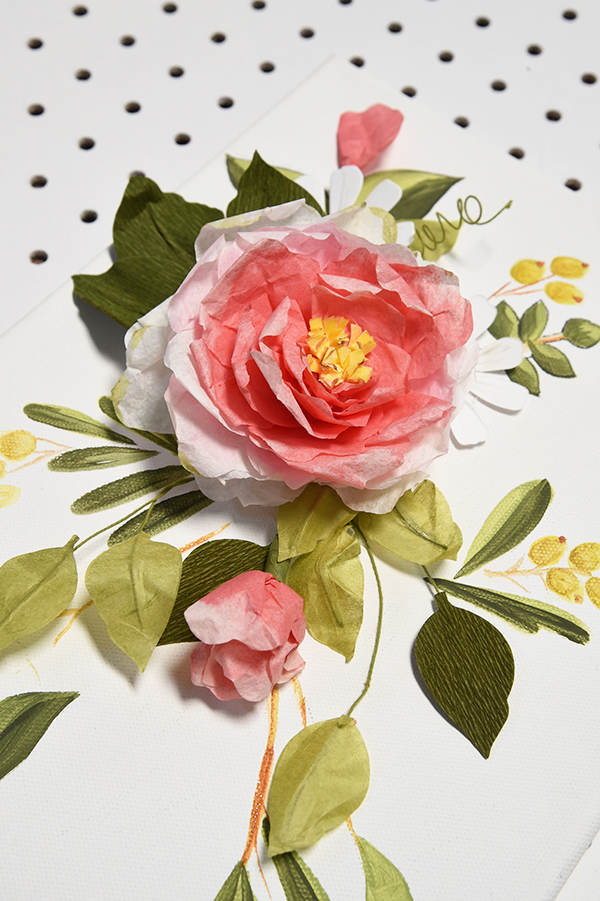 You can create it using this video below with the Simple Anemone Contour™ Steel Rule Die or you can use the Positively Peony Contour™ Steel Rule Die, in the same fashion and add additional petals by hot gluing them onto the existing petals from the flower that you made from the video.
Now for those of you who love to paint, this is a walk in the park. You can paint your own canvas or background onto a canvas mat. I embellished mine with touches of a black pigma pen when I was finished.
For those of you who say, "I can't draw", here is the perfect version for you…. sign up for our email newsletter to get our freebie coloring page drawn by yours truly!
XO,
Debi