Hi. Julia here. Today I'm sharing a card made using the Beaded Squares from the Die D-Lite™ Collection.
Spellbinders Supplies :
● S1-009 Beaded Squares Die D-Lite
● Prizm Machine
Other Supplies :
Sentiment Stamp, Cobalt Archival Ink Pad, Card – White, Pale Blue and Cobalt, Self-Adhesive Gems
Instructions :
1. There are 3 dies in the set. For this card, you just need the 2 smallest dies.
2. Cut die #2 out of White Card 4 times and out of Pale Blue Card 4 times. Select a sentiment that will fit in the centre of the die, stamp using Cobalt Archival and cut out.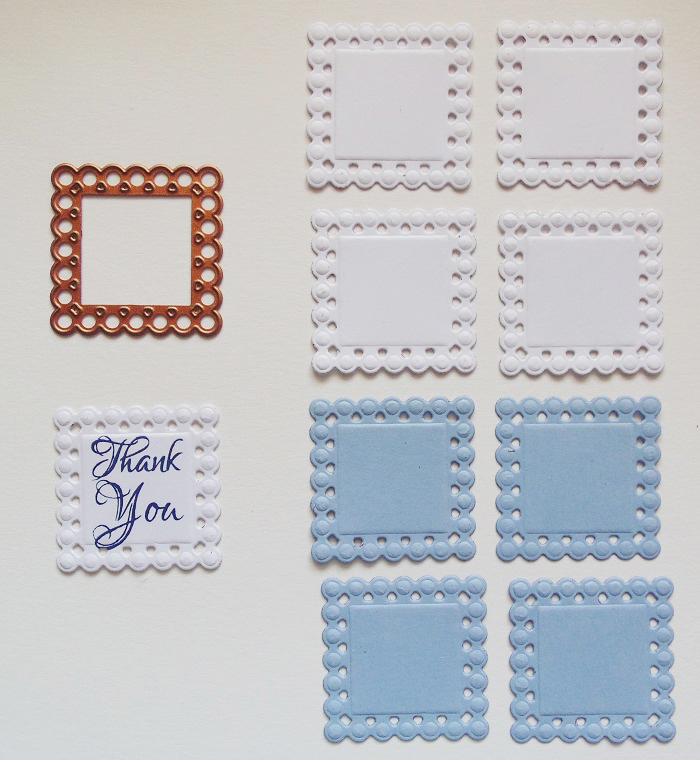 3. Cut die #1 (flower die) out of White Card 4 times and out of Pale Blue Card 4 times.
4. Trim a piece of Cobalt Card to 4 ¾" square. Position the die cut squares alternating the colours with the sentiment square in the centre. Secure the sentiment square using 3D Foam and the remaining squares using Glue.
5. Add the flower die cuts – pale blue flowers to white squares and white flowers to pale blue squares.
6. Add a Self-Adhesive Gem the centre of each flower. Add your design to a piece of Pale Blue Card trimmed to 4 7/8" square and then onto a White Card Blank measuring 5 ¼" square.
A pretty little card suitable for many occasions.
Thanks for stopping by.
Julia.