Cabin in the Woods Paper Houses Video Tutorial
Hello there! This is Yana Smakula, in this post I would like to show you how to use a Build A House die by Sharyn Sowell to create adorable woodland houses that can hold little treats, gifts or simply decorate your home.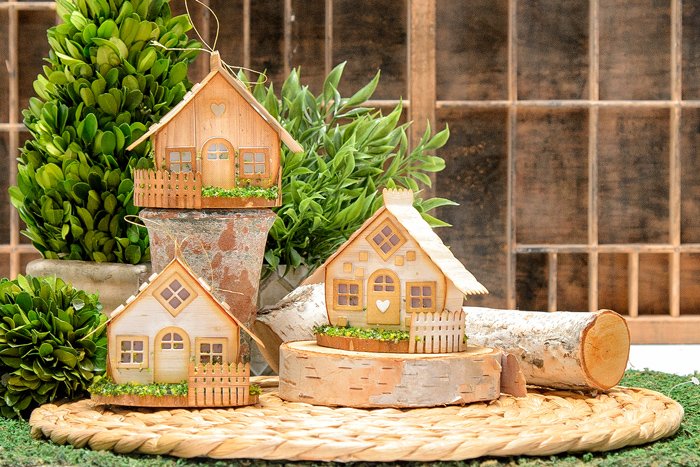 You can make these any color you like, I used patterned paper with a wood grain print to create a Cabin in The Woods type of houses, but you can also use bright and happy colors to create a house that you like. This house die comes with many bits and pieces that allow you to easily customize your project. You have a fence that you can put around the house for a nice country look and feel. You can add windows to the roof of your house and you can even make it so that it opens so that you can place a tea light candle or a little gift inside.
Let me quickly talk a bit about all the bits and pieces that are included in this die set.
a die to cut the front and back of the house;
another piece to create walls on the right and left sides of the house;
a roof die and this one not only cuts but also adds a score line, so creates a hinge so that you can easily open your house to reach inside. This die can also be used to create a base of the house (and you can make your house so that it opens from the bottom);
a door and window die;
a die to create window shutters; it can also be used as a gate for the fence. It also not only cuts but adds a score line;
a fence die and this can be cut multiple times if you need to create longer fence.
a little heart that you can decorate your house with.
To create the house you'll need to die cut two of the front panels and two of the side panels. There's no need to emboss either, simply cut the pieces out. You'll also need to cut two pieces for the roof and if you are using a roof die for the base – another piece for that as well. I used a wood slice for my houses here, so I only cut two pieces.
To add a door and windows to your house you can either cut them in the front panel (and later re-adhere in place) or cut them out of different color paper and adhere onto the house walls.
There's a number of ways you can arrange the door and windows – you can have a single door and single window, a door and a window on each side, a diagonal second-floor window. You can even add windows to the roof of your house and to the side panels, too!
If you die cut the door and windows in the front panel you'll need to add some sort of a screen to be able to re-adhere them back in place.
Watch my video tutorial below to learn how you can make this project:
Spellbinders supplies
Other supplies
Patterned Paper (Trimcraft – Love Story 12×12 Paper Pad); Wooden Slice; iCraft Super Tape; Glue (iCraft Mixed Media Adhesive); Flower Soft; Vellum;