Stick with Me Card using Cactus 3D Shading Stamps
Our 3-D Shading Stamps do all the work for you in one press of the stamp. Created by our revolutionary pixel technology, it's designed to bring additional image depth and multiple shades. The beauty and variation of these images will excite your passion for stamping all over again! This cling foam (EVA) rubber stamp is designed to be used with an acrylic block.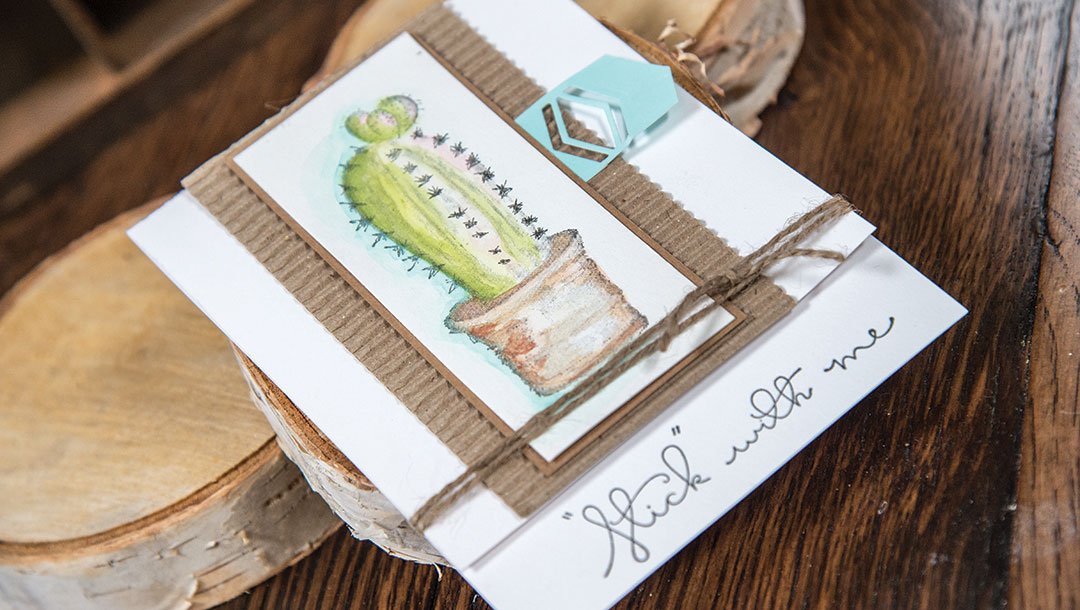 INSTRUCTIONS:
Cut paper as noted and score card base.
Ink Cactus 3D Shading Stamps with black ink and stamp on mixed media paper.
Lightly color image with watercolor pencils and blend with water brush. Note that the shading in the stamp helps show where your light source and shading is! Let dry.
Ink "Stick with Me" sentiment from Cacti Stamp & Die Set with black ink and stamp on the bottom portion of the folded card where it extends out further.
Place aqua cardstock with Tribal Borders Etched Dies and insert between two cutting plates and onto platform; run through Platinum 6™ Machine. Turn over insert die with die cut paper still in it and place on cutting platform. Place rubber embossing mat, followed by embossing plate and run through machine again to emboss image. Cut die cut in half and trim as shown.
Layer cactus image onto kraft cardstock. Adhere die cut to back of kraft cardstock, followed by the corrugated cardstock. Adhere to card front.
Wrap hemp twine around card front twice and tie in knot and trim as needed.
Supplies:
DSC-056 Cactus 3D Shading Stamps
SDS-030 Cacti Stamp & Die Set from Wild & Free Collection by Debi Adams
S4-682 Tribal Borders Etched Dies from from Wild & Free Collection by Debi Adams
PE-100 Platinum 6™ Die Cutting and Embossing Machine
Intense Black Ink Pad, AF345, Hero Arts®
Watercolor Pencils
Acrylic Stamp Block
White Cardstock, 11" x 4-1/2", scored at 6"
Aqua Cardstock
Kraft 80# Cardstock, Canvas Corp Brands, 2-1/8" x 4-3/4"
E-Flute Kraft Corrugated Cardstock, Canvas Corp Brands, 3" x 5"
Mixed Media 140 lb. Paper, Strathmore®, 2" x 4-5/8"
Scor-Pal Eighths®, Scor-Pal®
Hemp Twine, 24", Hemptique®
Water Brush
Tape Runner Adhesive