Fourth of July Parade Decor with My Little Red Wagon
With school out and summer in full swing, there is no better time to start creating. The Fourth of July will be here before you know it. Are you ready? I am bringing you several ideas to add the celebration to your table. Although my new line "My Little Red Wagon" was designed around young children, it can be translated into a variety of different styles for different occasions. I thought it might be fun to show this line with a Fourth of July flair. It certainly was easy to create the look merely by changing up the papers. Hope you will try your hand with any one of these party favors.
Hover over the image below to see what I used to create this adorable parade: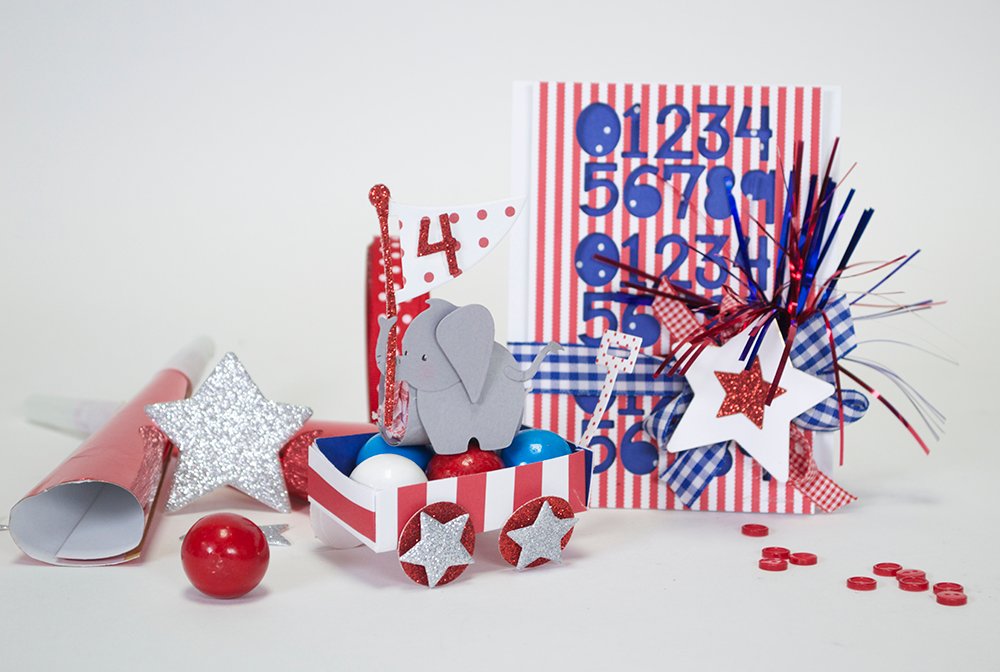 Instructions:
For the Wagon:
Die-cut the wagon from plain or patterned cardstock. (Double-side paper is a plus or consider adhering two piece of patterned paper together before assembling).
Assemble wagon together as indicated by score lines.
Die cut handle and wheels from various papers. Adhere to wagon.
Die-cut Stars (Rise N Shine set) from glittered paper and attach to wagon with foam dots.
For the Elephant:
Cut a strip of solid cardstock to fit around width of candy. Adhere in place.
Die-cut Elephant from gray cardstock. Before removing head from die, embellish eye using black pen.
Embellish Elephant's cheeks using chalk or blush and a q-tip.
Adhere body onto candy body.
Adhere head onto body using a small foam dot.
Attach tail onto Elephant.
Die-cut Pennant from patterned paper and glittered paper.
Trim and adhere glittered "handle" of Pennant to fit onto patterned paper Pennant.
Die-cut the number 4 from glittered paper and adhere to Pennant.
Attach Pennant to Elephant's trunk.
Really, these only take a few minutes to make but they will add so much festivity to your table and be a great treat for friends who may pop in. So my question to you is, what can you do with these? Would love to see your ideas.
XO,
Debi
****Here's my variation as a circus cage. I just cut the box again and used it for a roof. Straws formed my bars. I used button covers for the wheels. And there you go!
Supplies:
Platinum or Platinum 6 Machine
Cardstock of Your Choice
Patterned Paper of Your Choice
Glitter Paper of Your Choice
Foam Dots
Black Permanent Pen-Fine
Pink Chalk or Pink Blush
Q-Tip
Mini Necco Candies or similar – (mini lifesavers, etc.)
Hot glue and Glue Gun