Framed Floral Best Wishes Car
Hello everyone!
Yvonne here showing you how to make a card using the Marisa Job die-templates.
It takes only two sets of die-templates to make this card.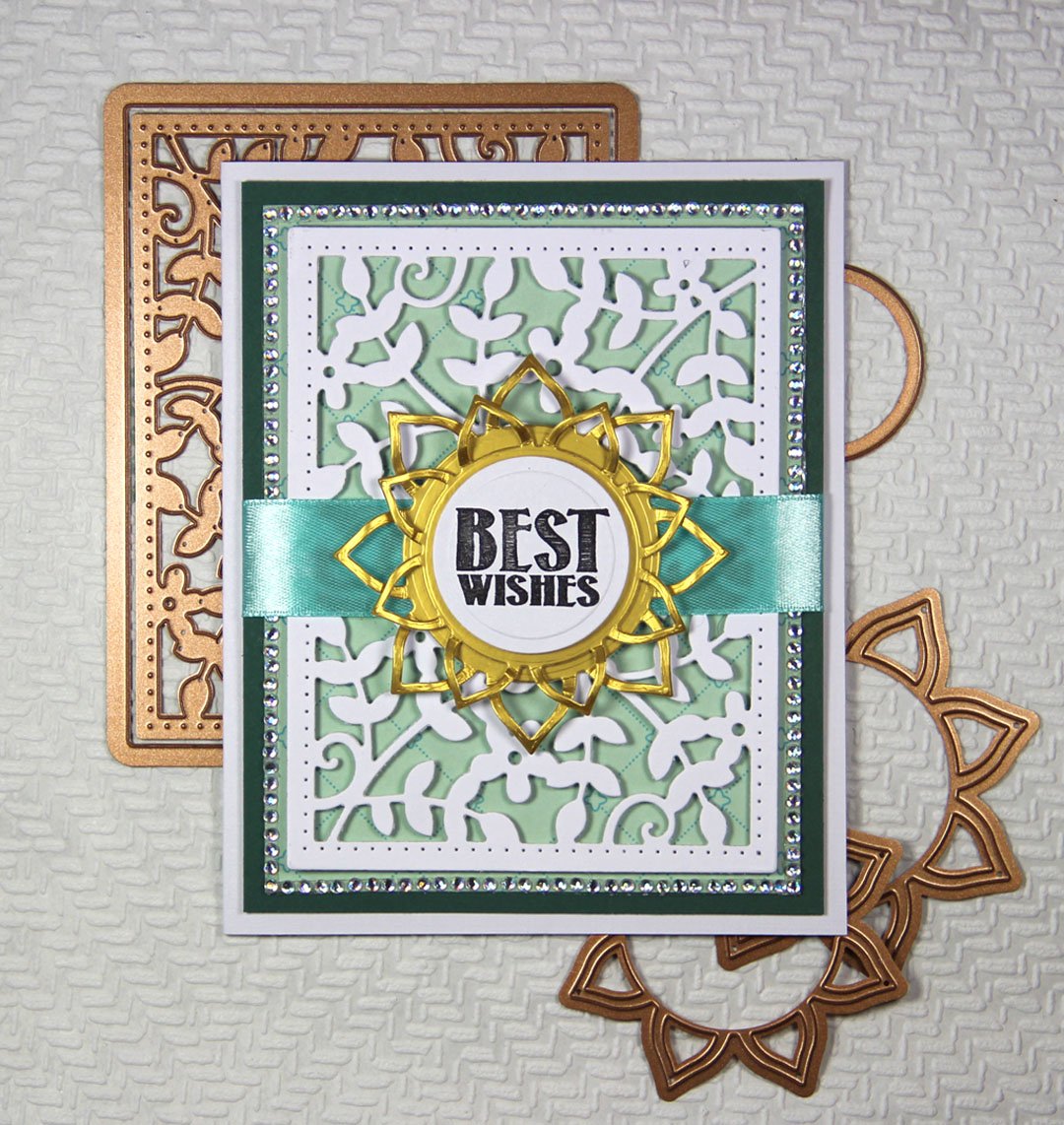 Let me show you how to make the card!
1.      Trim dark green cardstock to size 4¾x6″.
2.      Trim light green patterned cardstock to size 4½x 5¾" and glue upon.
3.      Cut Framed Floral Card Front # BorderInsert and # Border Frame  (stacked) fromwhite cardstock.  Glue upon using foamtape.
4.      Glue soft green  satin ribbon onto the  card base and glue the ends behind the darkgreen cardstock using foam tape.
5.      Trim white cardstock to size10 x 6¼" and fold to a card size 5 x 6¼". Use the Tool 'n One to remove the excess parts. Glue the card layers onto the white card base using foam tape.
6.      Cut/emboss Sunflower Photo holder #Large Flower and #Small flower from dull gold cardstock. Curl the edges using a small round (wooden) stick. Glue upon card base using foam tape.
7.      Stamp sentiment on white cardstock (using a black inkpad).
8.      Position Sunflower Photo Holder – small circle over the stamped image. Secure using washi tape and cut/emboss. Glue upon card base using foam tape.
9.      Embellish the card with self-adhesive rhinestones.
Spellbinders® supplies:
·        S5-274 Shapeabilities® Sunflower Photo Holder Special Occasions by Marisa Job Etched Dies
·        S6-117 Card Creator FramedFloral Card Front Celebrate the Day by Marisa Job Etched Dies
·        PE-100 Platinum™ 6 Die-cutting and Embossing Machine – 6″ Platform
Other supplies:
·        cardstock: white, gold, darkgreen, soft green (patterned)
·        sentiment stamp, black inkpad
·        self-adhesive rhinestones, satin ribbon
·        3D foam tape, bone folder,scissors, paper trimmer, glue
Thanks for stopping by and wishing you happy crafting!
Hugs from Holland,
Yvonne