Darling Chalkboard Holiday Ornaments – Christmas in July
Hello fellow makers!  Miranda here from Tinsel + Wheat guest blogging with Spellbinders as we celebrate Christmas in July! I'm so excited to show you how easy these little chalkboard stocking ornaments are to re-create.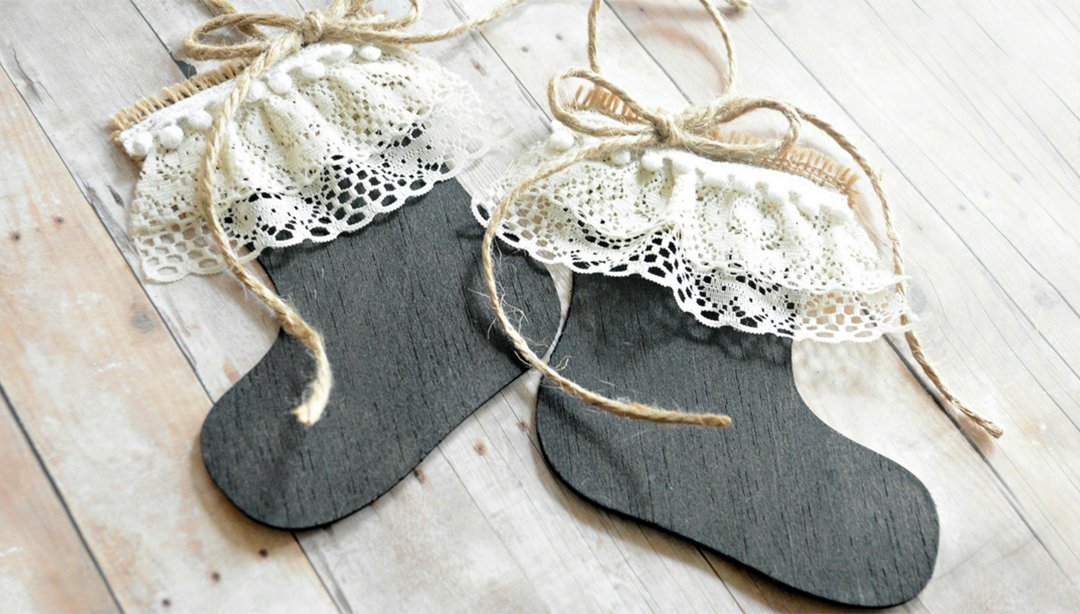 Here's what you'll need:
1/38″ balsa or bass wood (your local hobby shop should carry this – and you will be able to get 5 pineapples from one board of balsa wood)
1.5″ burlap trim
Layered lace trim
White soft ball trim
Twine
Hot glue gun
Paint brush
Black chalkboard paint
Scissors
Chalk
Let's get started!
Step 1: Cut your stockings out.
Cut out as many stockings as desired with your Platinum 6 machine, naughty or nice steel rule die, and balsa wood. Your sandwich die starting from the bottom up will be clear acrylic plate + your naughty or nice steel rule die + balsa wood + acrylic plate.
Step 2:  Paint your stockings.
Paint your stockings using black chalkboard paint. Make sure to paint both sides, this will help prevent warping.
Step 3: Add trim.
Start with your twine ornament loop, then add the rest of your trim.  For these stockings, I used burlap trim, lace, ball trim and twine.
Step 4: Personalize
Personalize your stockings with a little message using a chalk pen.
These stocking ornaments will make the cutest gifts or can be used as beautiful gift tags!  They take just minutes to make.
Thanks so much for reading!  We would love to see the ornaments you come up with for Christmas in July or for the holiday season, so make sure to tag us on Instagram!
Merry Christmas!