Easy Letterpress Style Backgrounds with Embossing Folders
Embossing folders are a great way to create easy textured backgrounds for paper crafting projects. Learn a quick and easy method for creating a multicolored textured background using embossing folders and ink!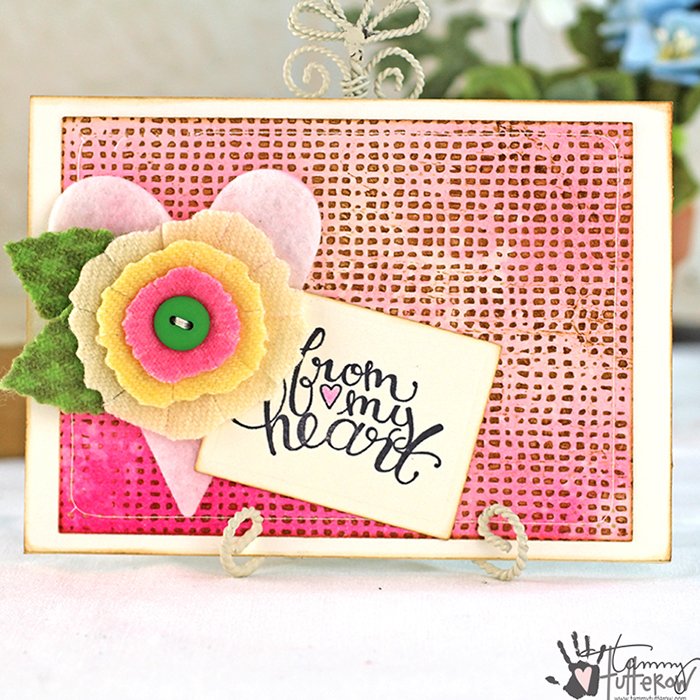 You probably already know that embossing folders are a smart crafty tool to have in your craft stash. They are inexpensive, are easy to use and add great texture to any project. There are many ways to add color to your embossed designs, but one of my favorites is to ink the embossing folder before sending it through your die cutting machine.
With embossing folders you have two sides to the design, one where your design is raised and the other where your design is recessed. If you are using a design that doesn't have a distinct direction (like words), you can use either side of the folder. They will give you two different printed looks. For this example, I am using my Horsehair Embossing Folder.
To ink the folder, simply skim the ink pad directly over the raised design surface. Be careful to not press the ink pad down as that can push ink into the grooves. The idea is to keep the ink on the raised areas only.
Turn your folder so that the inked side will close down on the top of your cardstock.
Create your sandwich (platform, embossing folder with paper inside, cutting pad on top) and run it through your die cutting machine.
NOTE- if you are new to Spellbinders embossing folders, they are thicker than other brands. You only need ONE cutting pad in your sandwich.
Inking the raised design area really accents the design of vintage woven fabric (the folder design was created from a photograph of a piece of vintage woven horsehair fabric). If you ink the opposite side of the design creates an entirely different look! I love that it is like getting two design options from just one folder!
What if you want even more color? You can add color to the top of the design by simply rubbing your ink pad or an inked blending tool over the raised areas… or…
begin with a colored background. I created this background by blending Spun Sugar and Picked Raspberry Distress Ink onto Ranger's Mixed Media Cardstock using an ink blending tool. I added a random light misting of water to create water spots on the background adding some light highlight areas. I blotted the excess moisture with a dry cloth. Leaving the paper slightly damp can actually help create a sharper embossed design so I didn't bother with drying the cardstock with my heat tool.
Continue as before by inking the raised design area with the surface of the ink pad.
Create the same sandwich as before and run through your die cutting machine. The finished embossed piece is colorful and full of texture.
After embossing, there won't be much ink left on the folder. Simply wipe what is left away with a baby wipe or damp cloth. Because Distress Inks clean up so easily with water, they are my favorite to use for this technique. The clean up easily and won't stain or build up on your embossing folder.
To finish my card, I added a quick posey made from scraps of felted wool using my Pom Pom Posies die set. (Thin dies that cut felted wool and all grades of felt? Yes!!) The Pom Pom Posie is so easy to make, simply cut as many layers as you would like of the different sized layers. Stack the layers together and add a button to the center with a few quick stitches.
Want to change it up a bit and add more dimension to your Pom Pom Posie? Simply make simple snips with scissors around the flower in toward the center. So easy and cute!
To complete my card, I layered my assembled posey onto a wool felt Prim Heart (shh! Sneak peek, its coming in August) and added a Tiny Sentiment onto the enclosure card that comes in all of my mini envelopes.
I love how quick this card was to create. The best part though is that it doesn't look quick or simple.  It is full of texture and sweetness!
Supplies:
SEL-006 Horsehair Embossing Folder
S4-630 Window Mini Pocket (enclosure card)
S4-814 Prim Hearts Etched Dies
Distress Ink, Ink Blending Tool, Ranger Mixed Media Cardstock
Felted Wool and/or Wool Felt scraps
Button: Just Another Button Company – Emerald City Smootie Pack