Back to School: An Apple for the Teacher Card
Hello everyone! Linda here sharing a project with a Back to School theme. First thing that came to mind was taking an apple to the teacher – who didn't want to be "Teachers Pet?!" I am not sure if happens these days but it certainly did when I was a child 🙂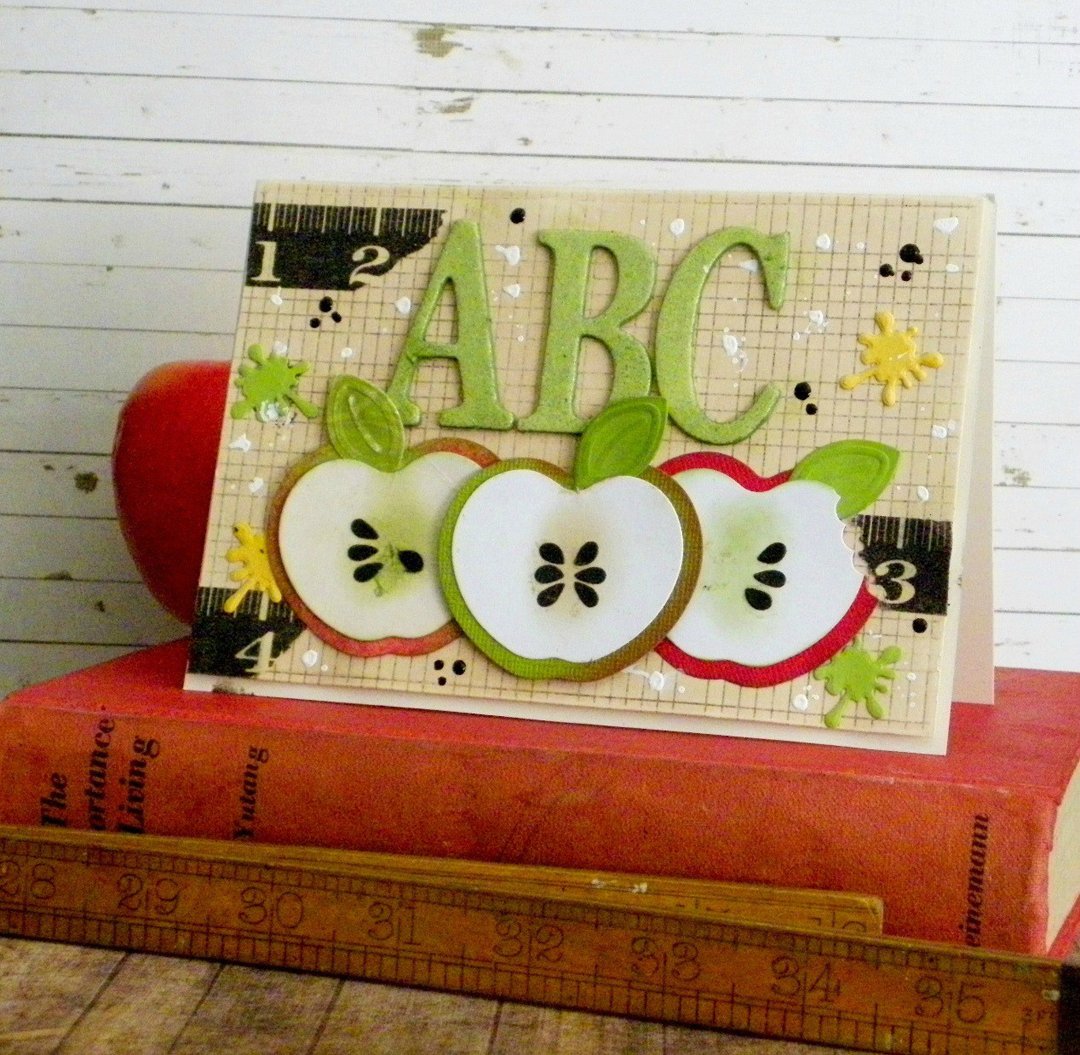 I had a lot of fun creating this card using the S4-720 Apple a Day Etched Dies from the Market Fresh Collection by Debi Adams, along with S6-001 5 x 7 Matting Basics A Card Creator Etched Dies and the S2-225 Die D-Lites™ Paint Etched Dies. You can see how they all work together as you follow along with the tutorial. Let's get started!
1. Using the S4-720 Apple a Day Etched Dies, cut/emboss one green apple, two red apples and three white apple centres with the PE-100 Platinum™ 6 Die Cutting and Embossing Machine – 6″ Platform.
2. From the same etched dies set, cut/emboss 18 apple seeds – 6 per card. NOTE: I have used repositional tape to hold the seeds in place for all every run through the die cutting machine.
3. Cut/emboss three leaves using green card stock.
4. Sponge around the edges of the apples using Rhubarb Stalk Ink and Bamboo Leaves Ink.
5. Use the die as a stencil, sponging inside the leaves before removing.
6. Assemble the apples adhering the apple centre to the apple using double sided tape.
7. Lightly sponge the centre of the apples using Bamboo Leaves Ink.
8. Adhere the seeds using liquid glue and a pair of tweezers.
9. Use a Scalloped Circle from the S4-131 Classic Scalloped Circles LG Etched Dies to create the bite from the top right of one red apple. Make sure to do it on the apple and the centre.
10. Cut/emboss one S6-001 5 x 7 Matting Basics A Card Creator Etched Dies Die #7 (#1 being the smallest die size) using patterned paper.
11. Adhere the Chipboard Letters onto the top of the card front using liquid glue.
12. Arrange the apples across the centre of the card front, popping up the green apple in the centre using 3D Foam Squares.
13. Tuck the leaves in behind the apples, securing with liquid glue.
14. Adhere torn Washi Tape to ether side of the card front as shown.
15. Cut/emboss one green and two yellow paint splashes.
16. Adhere to the card front using liquid glue and tucking one yellow one slightly behind the apple on the left.
17. Randomly add splotches using Pico Embellisher in Tuxedo Back and Wedding Dress. Allow to dry.
18. Pop the card front onto a pre-cut cream card base using Crafty Foam Tape.
Spellbinders Supplies:
Other: Liquid Glue; Scrapbook Adhesives by 3L®: E-Z Runner® Permanent Strips, Crafty Foam Tape and 3D Foam Squares; Imagine: Memento Ink (Bamboo Leaves and Rhubarb Stalk), Pico Embellisher (Tuxedo Black and Wedding Dress); Cream, Black, Yellow, Green and Red Cardstock; Washi Tape; Chipboard Letters