Creating Open Me Holiday Gift Tags
Hi everyone! Alli here from Partyography. Today on Spellbinders, we are celebrating the holidays early! In my opinion, it's never too early to start preparing for the most wonderful time of the year!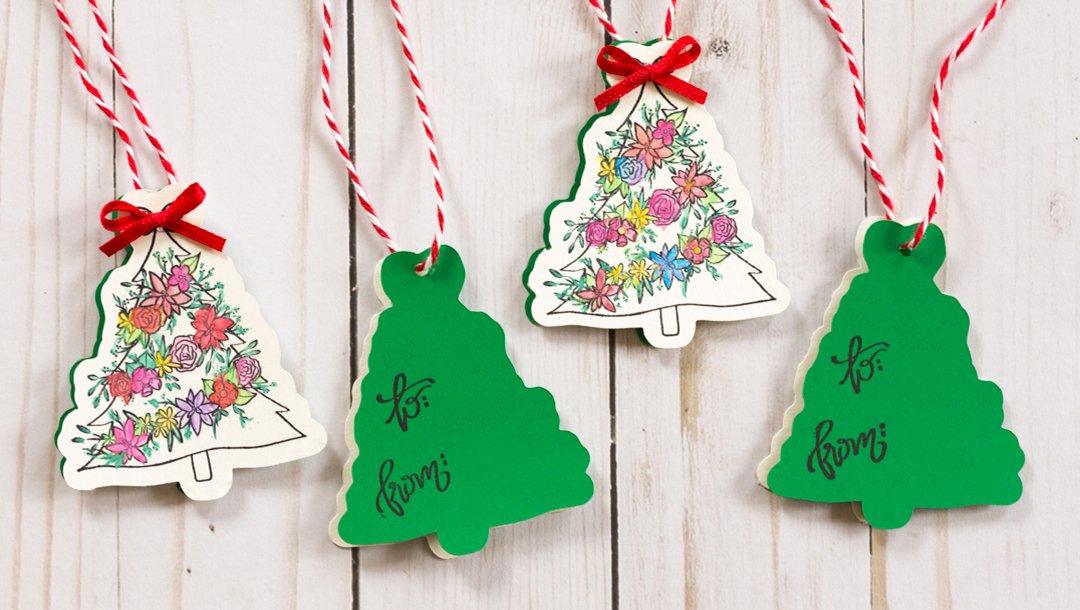 It seems like gift tags are always needed during the holidays! So I'm sharing super easy tags you can use to personalize all your gifts and treats this season.
Step 1:
Using the SDS-088 Open Me Holiday Stamp & Die Set, cut out two trees using green cardstock and watercolor paper. I only had the stamps at the time of making these gift tags so I hand cut each tree with scissors.
Step 2:
Stamp the watercolor paper with the Christmas Tree Stamp using black permanent ink. I've learned from looking at other Spellbinders projects you'll want permanent ink so the ink doesn't bleed when you paint with watercolor. You can also stamp the green tree with "To:" and "From:" so you can personalize your tags.
Step 3:
Paint or color your stamped paper however you like. I chose to leave parts of the stamped tree plain and emphasize the flowers and greenery. I also left the bow plain since I was using a real ribbon in its place.
Step 4:
Adhere the watercolor paper to the green Christmas tree using adhesive squares.
Step 5:
Punch a hole on the green tree and add red & white twine for hanging!
I'm new to watercolor (and stamping for that matter!). But even as a beginner, there's something therapeutic about painting these little personalized tags! I hope you enjoy making and giving out your own this holiday season!
Spellbinders® Supplies:
Other Supplies:
Cardstock
Square adhesives
Watercolor paint
Watercolor paper
Ribbon & twine
Scissors