Creating a Sweet Birthday Party Ensemble
Hello Spellbinders friends, it's Elena here to share some tips on Birthday decorations. This year my eldest daughter celebrated her 11th birthday at a youth camp. So I decided to organize something fun and simple for her since we are visiting her. I decorated the cake boxes for her and her friends. I knew she would love the idea – a sort of small birthday party with her room mates 🙂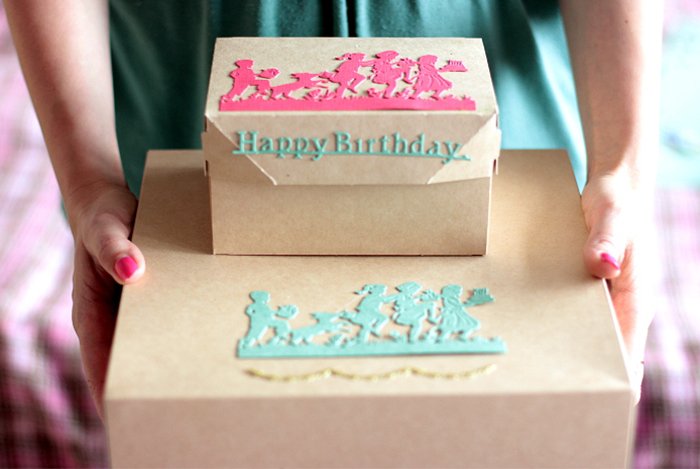 I've got two boxes filled with cakes pops and a few of her favorite Pavlova desert. I started with die-cutting Party Kids Etched Die from the Joyous Celebrations Collection by Sharyn Sowell for a total of six pieces from the blue cardstock and adhered them on sides of the box. To make it look more festive, I added the garland that I die-cut from the Happy Birthday Garland Etched Dies – one of my favorites for birthday projects.
I also used the "Happy Birthday " die from the same set and topped on the smaller box with her favorite cake that I prepared just for her. I used different colors for the box covers to coordinate with the rest of the ensemble.
The same sentiment die I used for the pop-up card I made using Gift of Happiness Etched Dies.
While taking this image, my youngest son told me that he wanted the same birthday decorations for his day to celebrate. He was quite persistent in his wishes and it was really hard to take a good picture! OK, son! You win! LOL!!
I think I made enough boxes! LOL! They are all filled with the sweets for my son and my daughter's friends using Surprise Me Box Etched Die from the Special Occasions collection by Marisa Job.
My daughter loved what I have prepared, so I highly recommend you to try these decorations for your special occasions. They are quite easy to do and not too time consuming. You will definitely get many compliments from the guests, I assure you! So they are worth to give them a try.
Spellbinders® Products used:
S4-752 Party Kids Etched Dies from the Joyous Celebrations Collection by Sharyn Sowell
S2-187 Die D-Lites™ Happy Birthday Garland Etched Dies from the Let's Party Collection
S7-203 Gift of Happiness Etched Dies from the Let's Party Collection
S6-105 Surprise Me Box Etched Dies from the Special Occasions Collection by Marisa Job
PE-100 Platinum™ 6 Die Cutting and Embossing Machine – 6″ Platform
T-001 Tool 'n One™