Santa Christmas Card Party with Sharyn Sowell
"I wish I could make beautiful cards like you do," I often hear. Sometimes our non-crafting friends think it's impossibly hard. Why not invite them over for a Christmas card making party to learn how easy it can be?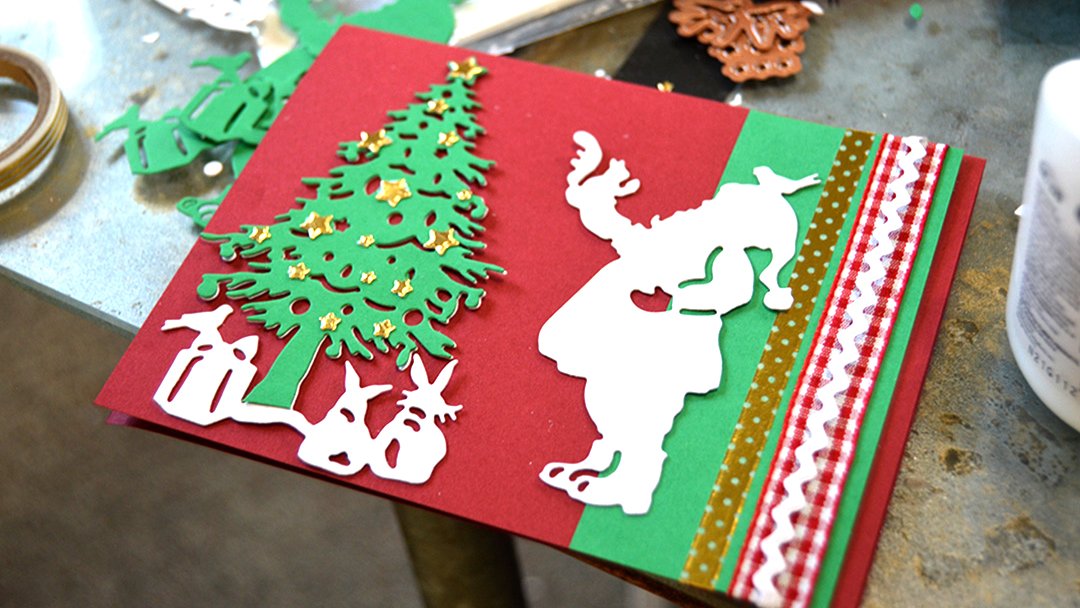 And starting in summer when life is more relaxed makes it so much fun.
I kept it very easy by making a very simple kit for each person tucked into a zip top baggie:
12 die cuts from the new Deck the Halls Etched Dies
12 half sheets of card stock
Several coordinated accent papers in assorted holiday colors
Assorted adhesives and glitters
Each guest provided her choice of embellishments such as washi tape, ribbons, rhinestones and so on.
Just walk your friends step by step through making a basic card. I intentionally kept it as simple as possible, starting with one card at first to make it less intimidating. Each guest laid out the die cuts on the card so she could see how it looked. Then I helped my friends add ribbon, washi tape or other embellishments to the accent piece.
Next we attached the elements of the card to the base, adding glitter and other little touches.
There was much laughter as my friends learned how fun and easy it can be to craft, and the cards began to take shape.
Once the accents were in place, we attached the die cuts. Some of my friends even layered contrasting colors. Everyone was feeling confident, even the ones who insisted, "I'm not crafty at all!"
I showed them the die I used to cut out the tiny gold stars and after they added the last accents to their first card we all went on to complete several more. Some of my friends even used the die cutting machine to make extra birds and stars to add to their envelopes.
Everyone finished a few cards and took home all the materials needed to finish up at home later. How fun to have a head start on the holidays! And even the least crafty ones want to come back for more projects before the Christmas rush.
Spellbinders® Supplies:
S4-822 Deck the Halls Etched Dies
Spellbinders Platinum 6 Die Cutting and Embossing Machine