Creating a Happy Grams Personalized Birthday Card
Hi everyone, Alli Roth here from Partyography! My oldest niece is turning five next month and since she's obsessed with coming over to craft with my Spellbinders products, I thought it's only fitting that I make her birthday card using some of her favorite etched dies.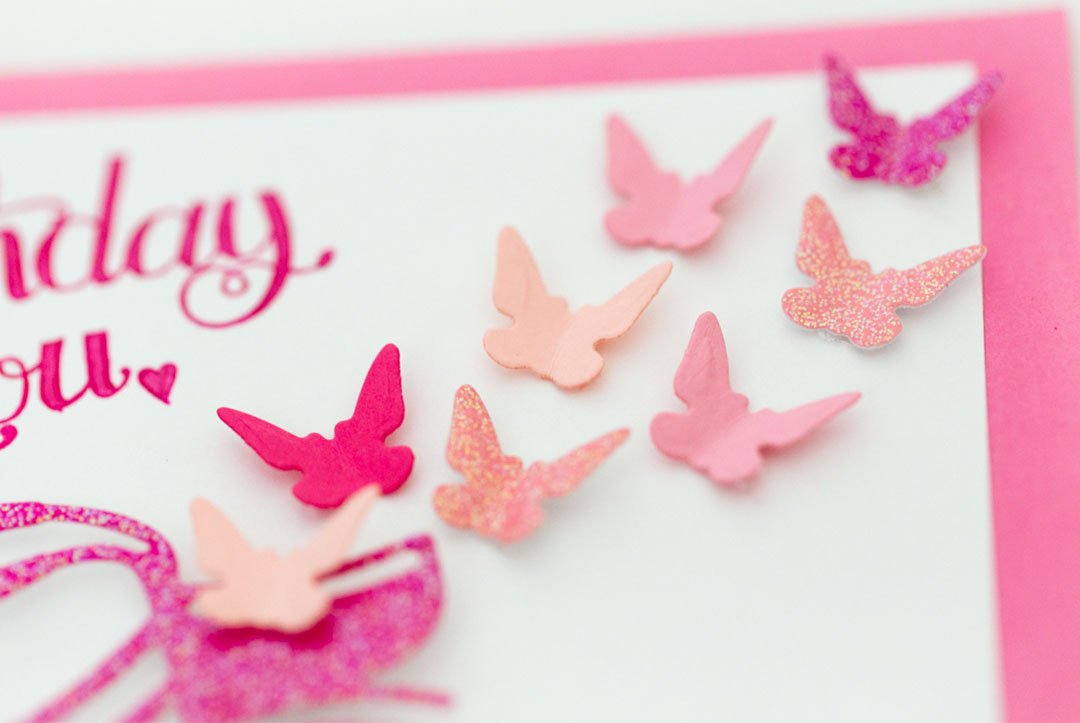 With the release of Happy Grams #4 by Tammy Tutterow, it's even easier to combine your favorite dies with whatever sentiments you like. And if your handwriting is anything like mine, you'll love the lettered look of these stamps without the stress of having to write yourself!
Step 1:
Cut background cardstock to 7 x 10 inches and fold it in half. Cut a second piece of cardstock in the same color to 5 x 7 inches. At this time you can also cut a white piece of cardstock to 5 x 7 inches.
Step 2:
Using the Sentiments 1 and Sentiments 2 stamps, stamp "happy birthday to you" onto your white piece of cardstock. Use markers or colored pencils to fill in the outline if you like.
Step 3:
Cut at least 15 butterflies from various shades of pink cardstock using the butterfly die from S3-277 Die D-Lites Bird Cage Etched Dies. You can also cut our your bicycle using S3-282 Die D-Lites Bicycle Etched Dies.
Step 4:
Glue the white cardstock to the piece of pink cardstock. Adhere ribbon to your card to give it a little something extra. Since my niece is only five, I thought polka dots made it more youthful! Then you can glue the pink cardstock to the 7 x 10 inches folded cardstock. This hides the glued ribbon and makes the card look nice and clean!
Step 5:
Adhere your bicycle to the card using square adhesives. Then you can fold your butterflies in half and glue them into place using hot glue.
It's so fun to be able to personalize a birthday card that combines all of my niece's favorite things; I can't wait to give it to her! I hope this inspires you in creating your next birthday card! For more ideas and inspiration, visit: Partyography By Alli.
Spellbinders® Supplies:
Other Supplies:
Shades of pink cardstock
Ink markers or ink pad
Square adhesives
Ribbon
Scissors
Glue