Cards Sure to Take You Around the Bend
One of my favorite techniques is to create drama and dimension by bending elements; it's so unexpected, so when people see it, it catches their eye. Hi there, I'm Becca Feeken with Amazing Paper Grace and today I'm going to show you how to assemble a quick 'shaped' card that will send you around the bend.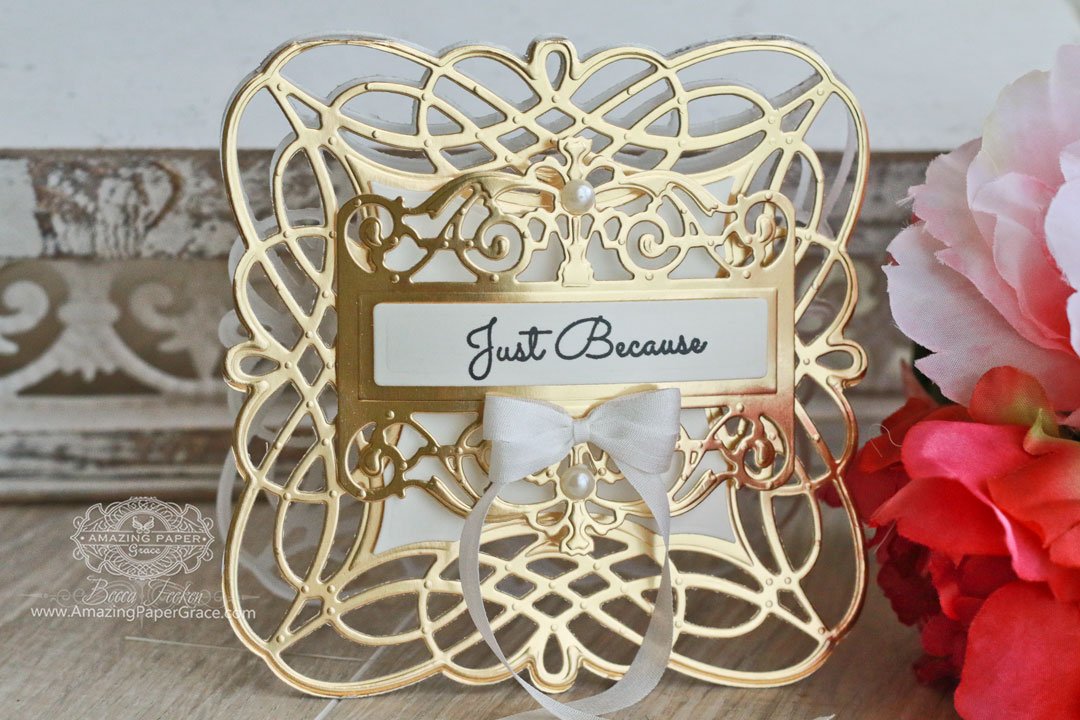 This card is going to be a shaped card. Shaped cards are quick because of the limited layers but they are eye catching because you can see through them depending on the complexity. We do that by cutting two of the shaped elements except one of the elements is cut on the fold. Come along, I'll show you.
1. Cut/Emboss two Spellbinders S4-733 Braided Grace Squares from gold poster board except the second one should have a 3/4″ flap at the top and the fold like placed just inside the cut line.
2. Poke out all holes on flap and apply Glossy Accents as glue. Place single piece on top of piece with folded flap with wrong sides together. Embellish center with die cut from interior piece in cream. Adhere with double stacked foam tape.
3. Cut/Emboss large motif from Spellbinders SDS-054 Giving Occasions Die and Stamp Set
4. Bend and curl piece from left to right; place double stacked foam tape on left and right edge. Adhere bent piece to center of card taking care to preserve the bend.5. Cut/Emboss sentiment rectangle from Spellbinders SDS-054 Giving Occasions Die and Stamp Set
6. Stamp rectangle with Just Because sentiment and adhere to front of card.
7. Embellish with ribbon and pearls.
You can send lots of elements around the bend it they are able to be secured with foam tape on the sides. Of course this type of card is sent in a CD mailer with about 1/4″ head room to preserve the bend. The dimension adds such appeal to your cards. I hope you'll give it a try, and "see you around the bend!!"
Sending hugs!
Becca Feeken – www.amazingpapergrace.com
Spellbinders Supplies:
Other Products Used:
Neenah Classic Crest Natural White 80lb Smooth Card Stock, May Arts Silk Ribbon, 3M Foam Tape, The Paper Studio Pearls, Ranger Glossy Accents